ABOUT US
We're a group of people who share an interest in breaking down the barriers faced by disabled people in their everyday lives. We usually meet fortnightly on Tuesdays between 6pm and 8pm at the Thistle Foundation, where we're based.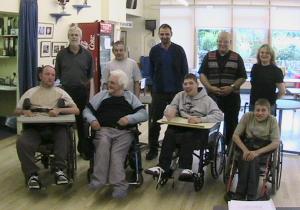 Group members in the Garden Cafe
What do we want?
Craigmillar transport and buildings to be fully accessible to all disabled people
Inclusive employment and educational opportunities across the board
To raise awareness of how disabled people should be fully included in the community
To communicate with local groups and people about issues affecting disabled people in their communities
To promote a fully inclusive and understanding community
To campaign collectively with other groups on issues affecting disabled people
To gain skills ourselves and learn about community action
How are we going about it?
Developing links with other groups
Recruiting new members
Building up a bank of knowledge and information
Forming working parties on issues
Publicising our work as a group
Getting support to encourage us to perfect our political skills
Maintaining our funding