LANGUAGE AND TERMINOLOGY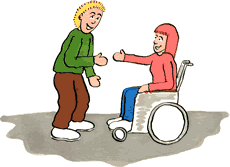 Good communication
Most disabled people and organisations of disabled people choose to apply the social model of disability which says that it is the barriers in society which turn impairments into disabilities.
Language grows and moves on. There is not a universal agreement on the use of language and terminology and the following should be taken as guidance on current good practice.

Words/phrase to avoid
Preferred
The disabled,
The handicapped
Disabled people
The deaf
Deaf* people
The hard of hearing
People with a hearing impairment
Deaf and dumb,
Deaf mute
Deaf* without speech
A mute
Person without speech,
Person with a speech impairment
The blind
Blind people
The visually impaired
People with visual impairments
Victim of...
Person who has,
Person with,
Person who has experienced
Suffering from,
Afflicted by
Person who lives with
Wheelchair bound,
Confined to a wheelchair
Wheelchair user
Invalid,
Person with a disability
Disabled person
Mentally handicapped,
Backward,
Retarded,
Simple
Person with learning difficulties
(or learning disabilities)
Mongol
Person with Downs Syndrome
Spastic
Person with cerebral palsy
Crazy,
mad,
mentally ill
Mental health issues,
Mental and emotional distress,
Mental health survivor
Normal
Able-bodied
Non-disabled
Special needs
Access requirements

* Use of the Capital D may indicate first language British Sign Language user.