OUR EXPERIENCES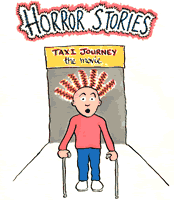 We have a problem
We've a lot of experience of trying to use taxis, and indeed many of these experiences are what have driven us to put together this training pack, but below are a few quotes representing some of the more common concerns.
Journey begins...
"I phone up and ask for a taxi to be there at a specific time. It's difficult to get the person at the other end to know what I'm saying. I need help. I have to get a wheelchair taxi with ramps. Sometimes the taxi is late. Never an apology. It makes me late for things. I feel terrible - it is all out of my control."
"The meter is left to run as I board. I hope that because I cannot see very well, the driver will not take me the long way round too!"
Getting there
"It's all a bit dodgy. I'm hoping the taxi driver will get out the ramp. He tilts me back and tells me he has never dropped a wheelchair before. It's a bit scary. He doesn't want to get the ramp out. In the taxi I slide from side to side. He doesn't seem to want to use the seatbelt either. He puts his foot down. I will phone and complain later. I feel out of control now. Terrible."
... Journey's end
"I pay money using my taxi card. Sometimes the driver is impatient. Sometimes he uses ramps - when I tell him to - that's after a few persuasions. I try to be polite. I feel frustrated and angry. I ask the driver to help me to the door before he goes away."