WHEELCHAIR USER as a PASSENGER
At the beginning of the journey
If the driver has an Exemption Certificate, it should be clearly displayed on the windscreen so that potential passengers know that the driver does not have to take people who require assistance.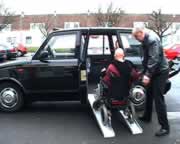 Movie clip: Fitting the removeable ramps and getting in to a Metrocab
Broadband · Modem
The taxi driver should know:
How to use the ramp or ramps fitted to the taxi. How exactly this is done varies between vehicles.
When to use ramp extension. If passenger is on pavement level, shorter ramp can be ok, but if on a flat surface the ramp can be too steep with the extension
How to handle a manual wheelchair up the ramp
How to handle a manual wheelchair off and onto a kerb
| | | |
| --- | --- | --- |
| | | |
| | "When you go for someone it's best to try and get everything ready and not leave the person in the cold" | |
| | | |
| | | |
| --- | --- | --- |
| | | |
| | "It's important to try and put the person at ease" | |
| | | |
Quotes from one of the taxi drivers at our taxi workshop event
Safety is extremely important. The taxi driver should be aware of his/her own safety as well as that of the passenger. Great care should be taken to avoid injury while pushing, pulling and especially lifting and lowering a wheelchair user.
Getting into the taxi
| | | |
| --- | --- | --- |
| | | |
| | "If you use the ramps and do it properly, it's easy" | |
| | | |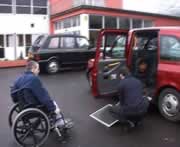 Movie clip: Using the folding ramp and the extension, and preparing the restraints, on a TX-II cab
Broadband · Modem
The driver must always, always, always use the ramps to help get a wheelchair user into the cab.
Some cabs have folding back seats - on these vehicles the seat needs to be folded out of the way to allow room to manouvre inside.
There is a wee lip on the ramp when you are getting into the taxi and it can catch - you need to go back a bit then push back up.
Ask an electric wheelchair user if she or he wants to drive up the ramp herself or himself, or if they'd like assistance.
Taxi driver should assist manual wheelchair user up the ramp, as far forward as the wheelchair can go.
Fold up or remove the ramp before putting the wheelchair in place and fitting the belts and restraints, as in some cabs you can't do it afterwards
Wheelchair user then reverses and turns into position inside the taxi. Note that when turning the chair round the footplates can catch and get jammed, and the taxi driver may have to help free them.
Help passenger into place.
Fit the restraints or belts. Again different taxis have different fixings and all can be awkward but for the passenger's safety they must be used on every journey.
Ensure that the wheelchair's brakes are securely applied.
Ask destination, turn on meter and drive off.
This may all seem complicated but with a little practice it only takes a minute. It can be briefly summarised as:
Fit ramp
Fold seat
Drive in
Remove ramp
Place chair
Belt up
Brakes on